.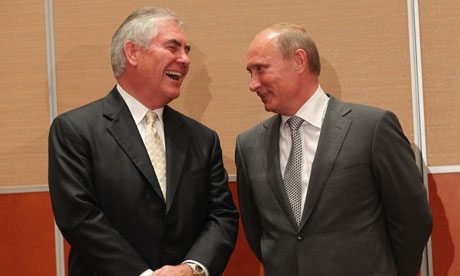 .
Russian president Vladimir Putin (right) and Rex Tillerson of ExxonMobil during the signing of the arctic oil exploration deal....
ExxonMobil/Rosneft Agreement an Indication that New World Order Has Already Arrived....and that Moscow has joined with the Axis of Evils, but New mini-Cold Wars Heating-Up In Southern Central Asia, just to distract the Gullible...., and I would say one in two bosses is a Psycopath hiding it with Business-speak....


http://www.dailymail.co.uk/news/article-2032912/One-25-bosses-psychopath-hides-charm-business-speak.html
2
09
2011
[The synchronization of American and Russian policies is the Arctic can also be seen in the plunder of Central Asian oil and gas resources. Russian endorsement of the NATO war crimes in Libya further reinforces the conclusion that the US and Russia are now partners in most things. Is this an indication that the much feared "New World Order" is already a fact, a foregone conclusion, that is now reported as a future event? If we now start to see resolution of the Caucasus disputes, especially in Nagorno-Karabakh, in order to facilitate new southern routes for European gas and oil pipelines (either Nabucco or South Stream), then we will know for certain, that in most matters, the US and Russian leaders are as one. If we realize the truth that Russia has offered only token resistance to American aggressions around the world, such as that directed against Libya and before that, Iraq, we will begin to see the hidden workings of the already functioning NWO. Our future fears are now facts.]
As ExxonMobil beats BP to strike a deal for Russian Arctic oil, what does it mean for the industry – and the environment?
In an age of diminishing resources but soaring populations, the scramble for the Arctic's riches continues. Months after BP's rival bid fell through, US oil giant ExxonMobil has just struck a £2bn agreement to develop vast hydrocarbon resources in the Kara Sea, off Russia's northern coast, in return for offering its Russian partner, Rosneft, assets in the US.
In one sense the deal is, of course, a very welcome development. Far from fulfilling dark prophecies of conflict and confrontation between rival governments, the Arctic's resources are instead bringing nations closer together, moving in step with the mysterious, unpredictable pace at which regional ice is retreating: US experts, using advanced satellite information, have shown that ice in the Arctic Ocean is continuing to "decline at a brisk pace", even if this year's figure is not set to match the record low of 2007.
The deal represents a remarkable mutual interdependence and harmony. On the one hand, the Russian government, highly dependent on oil and gas exports for revenue, desperately needs advanced western technology and expertise if it is to have any hope of maintaining its current level of production. Meanwhile, western "super-majors" such as ExxonMobil are under constant shareholder pressure to "book reserves" by finding large sources of future revenue that will allow them to keep commercial pace with global, particularly Asian, competitors.
It is just such reserves that the Arctic appears to offer. A 2008 survey by the US Geological Survey estimated that the region appears to harbor around 13% of the world's undiscovered oil resources and 30% of its undiscovered natural gas. And the relatively shallow waters of the Kara Sea are particularly appealing.
In this respect, this week's agreement represents a positive step – one that will reduce political rivalry and tension between the two respective governments, both of which will have much to gain from oil revenues when the deal is put into practice.
Nonetheless, the new agreement does give one major cause for concern. For as the Deepwater Horizon catastrophe showed so painfully last year (around 5m barrels of oil were lost as a result of BP's Macondo blow out), both parties need to give some reassurance that they will be doing their utmost to prevent and minimize any environmental mishap.
The Arctic region is particularly vulnerable to such mishaps for the obvious reason that the regional climate makes them much more likely. True, there is less ice than before – levels this year are said to be "exceptionally low" in the Kara Sea – but they can vary enormously from year to year, and icebergs, moving at fast speed, can still appear at any time of year. In difficult conditions, pipelines are not only more likely to crack, but any spillages are apt to be proportionately harder to find: it was no coincidence that BP's other recent environmental tragedy, the Prudhoe Bay oil spill in 2006, happened in a remote area of Alaska's North Slope.
It is true that, under the deal, the two companies have agreed to set up a joint research centre in St- Petersburg to develop new ice-resistant drilling platforms and other technology. But these could take years, or even decades, to bear fruit; and in any case the agreement says nothing about the enhanced safety standards – such as a detailed clean-up plan to deal quickly and effectively with any spillage – that need to be rigorously enforced.
The Russians have an appalling track record on environmental safety – the way they have dumped radioactive waste into Arctic waters bears ample testimony to that – while ExxonMobil's critics allege that a company so concerned about shareholder returns could be tempted to cut costs and take environmental risks.
In particular, the two companies need to recognize that environmental safety is a matter of commercial self-interest. Any serious oil spillage would of course hugely damage their share price and, even if this remained just the stuff of nightmares, the power of the "ethical investor" should not be underestimated.
For Moscow, the costs of guarding oil installations, if they are targeted by protestors using similar tactics to those who boarded Cairn's rig off Greenland last summer, could also be considerable. And the mere threat of such protests would also further undermine Russia's battered image before international investors.
ExxonMobil and Rosneft could now seize this Arctic opportunity and break new commercial ground by signalling that they will respect the concerns of the environmental lobby and drill in Arctic waters only when strict safety standards have been met. And formulating and implementing those standards now offers the US, Russia and other international powers a fruitful way of working together....
[Judging from the closing statement, Medvedev and Tajik President Rahmon are apparently referring to the Rogun Dam project, which Moscow may be supporting, once again, and the renewal of military relations, possibly Tajikistan's agreeing to Moscow's desire to return its troops to the Tajik/Afghan border. The Kremlin's on-again, off-again support for the Rogun Dam project has turned on the Russian desire to appease Uzbek President Islam Karimov, who is dead-set against the dam. He has taken this stance of hard-headed resistance because of the fact that it will cut-off much of the water which normally flows to the massive Uzbek cotton crop, for at least the seven years to twelve years that it will take to fill the massive dam.
With Russia taking the side of Tajikistan and the United States and friends patching-up their feud with Karimov, perhaps regaining basing rights they once had in Uzbekistan (SEE: US Senator Lindsay Graham Meets with Uzbek President Karimov), we see the elements of a new mini-Cold War heating-up in southern Central Asia. It looks as if the Fergana Valley might be the next spot to heat-up in the American/NATO perpetual war on terror (SEE: What "Combat Zone" In Central Asia? ; Smashing Greater Central Asia – Part One ).]
In a statement after a meeting in Dushanbe on Friday, President Medvedev and his hosting Tajik counterpart Emomali Rakhmonov say their countries will continue to build a strategic partnership, in all bilateral and multilateral aspects. The later include coordination on the Commonwealth of Independent States, the Collective Security Treaty Organization, the Eurasian Economic Community and the Shanghai Cooperation Organization.
The Presidents attach particular importance to joint hydro-power projects and to joint efforts to enforce military security in the Central Asian area....
The former Soviet states are notoriously complicated for foreign businesses. Money can be made there as quickly as they can be lost, with governments playing an active role. A U.K.-based gold miner Wednesday said it sued Uzbekistan over a joint gold mining project that went sour.
U.K.-listed miner Oxus Gold PLC's gold-digging adventure there ended up with criminal charges of industrial espionage and an arbitration case the firm brought against the government.
Minerals-rich, fast-growing former Soviet states offer tax breaks and cheap labor force to foreign investors. Oxus enjoyed tax exemptions and other privileges its joint venture with the Uzbek government, where gold production started in 2003. But laws later changed and the favors were scrapped, while Oxus ended up with a bill from the government for back taxes and customs duties.
In February, Oxus offered to sell its stake in the venture to Uzbekistan. The following month one of its local managers was arrested and charged with industrial espionage. Oxus said it believed Uzbekistan was seeking to liquidate the business. The spokesman for the Uzbekistan government referred this correspondent to the deputy minister of justice, who wasn't immediately available to comment.
Russian mobile operator OAO Mobile TeleSystems had its Turkmenistan licenses suspended last year due to what the local government said was the expiry of the agreement with the firm and its local unit. The company claimed the licenses and the agreement were not interconnected and launched arbitration.
"The local authorities just wait until the business is up and running, and then take it away," a manager at a company that got into trouble in one of former Soviet countries said, speaking on the condition of anonymity....
ExxonMobil has emerged the surprising big winner from the breach made earlier this year by BP's fumbling of its blockbuster agreement with Russia's state-owned Rosneft oil company. In a $3.2 billion agreement presided over today by Russian Prime Minister Vladimir Putin and Exxon chief Rex Tillerson, Exxon gains the hugely prized right to explore for oil and gas underneath Russia's fabulously rich Arctic region. It's the same three Arctic fields that BP lost earlier this year, and the agreement puts Exxon in the same leading catbird seat next to Rosneft that BP lost.
Chris Weafer, chief strategist for Moscow-based Troika Dialog Bank, says that given Exxon's lobbying pull in Washington, the deal is "a major prize for Putin and has very direct implications for U.S. relations. It is a major step that puts the 'reset' back on track. Moscow has a new major ally in Washington."
In an email exchange, Weafer said that as Russia works to maintain its daily production of 10 million barrels of oil a day, the deal hits at two layers of vital Russian need. "Ten million barrels a day is both an important base for the economy, but is also the justification for Moscow's geo-political standing," he said. "It is critical for the Kremlin to maintain that average for as long as possible."
That Exxon would horse-trade with Rosneft to obtain this sweet deal is not surprising -- the Arctic holds some 25 percent of the world's remaining untapped oil and gas reserves, according to the U.S. Geological Survey, most of it underneath Russia's part of the region. But BP had been prepared to swap shares with Rosneft for that right, and it did not seem possible that any other Big Oil company -- and certainly not Exxon -- would be willing to have Rosneft potentially sitting on its board of directors.
Exxon neatly skirted this conundrum. It did so by offering Rosneft not shares of Exxon itself, but equity participation in some of its U.S. projects. This still gives Rosneft what it cherished -- a way to break out of Russia and become a global player. And as stated, Exxon gets what it most wants -- access to the Russian Arctic.
Yet the deal is still risky. Exxon, which jealously guards its preferred methods of exploration and development and is widely regarded as the best in the business at big projects, is simply not going to listen very much to Rosneft as a partner in difficult regions such as the Arctic. The public announcement nonsensically says that the two companies will combine their respective "proprietary technology" in their venture in the Kara Sea. Just what proprietary technology does the flat-footed Rosneft have? No, all that Rosneft brings to the table is access to reserves.
In an email exchange, Exxon spokesman Alan Jeffers told me that Exxon has offered Rosneft an equity position in exploration projects in the United States "and other countries." Jeffers said:
Projects include deepwater Gulf of Mexico and tight oil properties in Texas,. We don't have any further details at this time, but Rosneft's entry will be subject to the agreement of other equity partners and approval of host governments.